There are a variety of exciting, relaxing or interesting things to do in and around Brighton whilst staying in one of our Brighton holiday homes. Here is a selection of some of the best things to do during your Brighton holiday: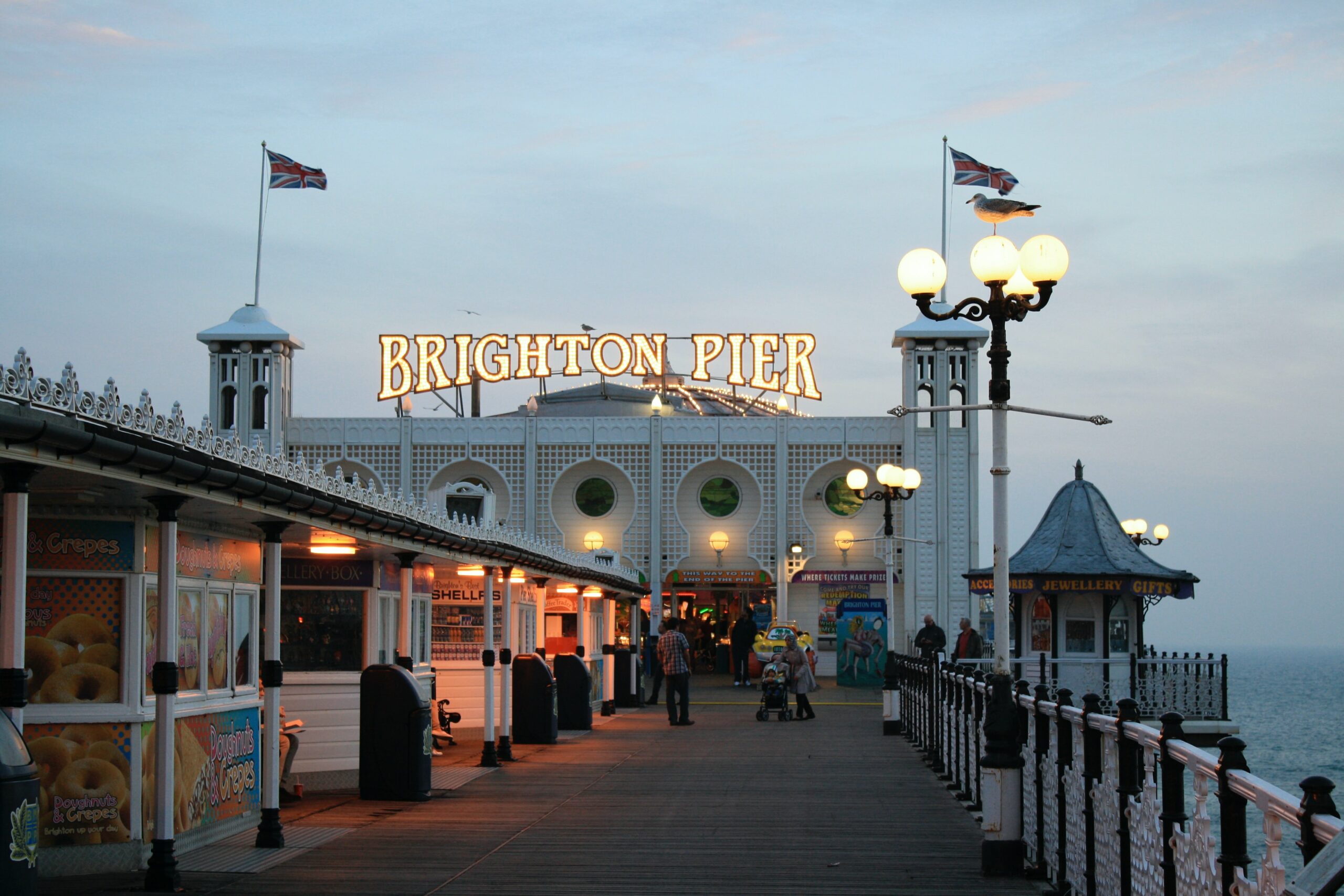 Brighton Seafront
Brighton Pier – The Palace Pier is a must-visit when in the city, with its exhilarating rides, beautiful views and fish and chips. Also, just a stone's throw away from one of our Brighton holiday homes (The Old Town House).
Brighton Marina – The marina is the perfect place to have a stroll around with a wide range of restaurants, from a floating Chinese restaurant to some high-quality Italians. You will be spoilt for choice when it comes to activities, with everything from mackerel fishing to ten pin bowling.
The Volks Railway – This is the oldest electric railway in the world. This leaves from the Brighton Palace Pier and goes to the Marina. Check their website for opening times as they have a seasonal timetable.
Komedia – Home to the award-winning Krater Comedy Club. Komedia Brighton has been the beating heart for live entertainment in one of the UK's most culturally dynamic cities. The venue hosts an eclectic mix of comedy, music and cabaret, together with a street-side cafe.
Brighton i360 – Visit the Brighton i360 for stunning, panoramic views of the city's famous landmarks and coastline.
The Sea Life Centre – The Brighton Sea Life Centre is the oldest aquarium in the world. Built originally by the Victorians. It now houses thousands of fish (150 species), some sharks and turtles. A good option for families with children.
Brighton West Pier – Although this is no longer a pier you can walk on there are plenty of very nice shops and bars around this area. A great place on a good day to sit out and enjoy a drink or grab a spot of lunch.
Brighton's nudist beach – near the pavilion. A great place if you wish to look at naked old hairy men.


Shopping in Brighton

The Laines and Lanes – If you are looking to put a creative edge into your shopping, The Lanes Brighton offers a shopper's paradise of independent shops and boutiques.

Once the heart of the fishing town of Brighthelmstone, The Lanes Brighton is the city's historic quarter with a fabulous maze of twisting alleyways. There are twittens and cat creeps offering an extraordinary mix of items. From antiques and jewellery shops to specialist contemporary and designer boutique fashion. Crammed with quaint and wondrous shops and funky restaurants and cafes, The Lanes are best wandered lazily and explored as you find them.

If you need a new outfit or even a whole new look then this is the place to be. You'll find designers and boutiques selling pieces from hats to shoes and everything in between! Whether you need a designer pair of glasses or fancy a new hairstyle, you can find it all in The Lanes. If jewellery is what you are looking for then the twisting alleyways of the lanes, Brighton is the perfect place to look as they are filled with a wide variety of jewellers from contemporary designers creating stunning bespoke pieces to antique and vintage jewellery stores.

Music, Activities and Culture

Brighton Centre and Brighton Dome – Both venues host a wide range of music concerts, conferences and exhibitions.
Hove Lagoon Watersports – An excellent choice for water-sport lovers. It has the latest high tech equipment and hands-on tuition with two venues located at Hove Lagoon and Brighton Marina.
Brighton festival – this is in May and the town is filled with all kinds of fantastic cultural activities many of which are free to attend. These include the open artists' houses and live performances of every description.
Royal Pavilion – The Royal Pavilion is remarkable for both its extraordinary appearance and its historical background.


Walks and Surrounding Towns

Rottingdean – Rottingdean is easily accessible by bus, bike or car and is a traditional style English village. The main attractions in the town are Kipling's Garden, Rottingdean Windmill and St Margarets Church. It is also home to several tea rooms and traditional style village pubs.
Seven Sisters – This is a bus ride just outside of the city and is a fantastic place to go for a picturesque walk.
Barcombe Mills – This is a great spot to get lunch at The Boathouse if you wish to visit a traditional English Country pub. You can also hire rowing boats and sail along the meandering river.
Devils Dyke – a stunning natural beauty spot a short drive outside of the city.
Lewes – This is a town 15 miles away. You can visit the castle, grab a spot for lunch or visit the many shops here.
This is just a selection of what's on offer in and around Brighton. Contact us for more advice about what to do when staying in one of our Brighton holiday homes.